Community involvement in the education system is key to our success as a progressive and collaborative learning community. We want to be sure we are communicating with our parents and community in the best way possible.
Complete this survey by Monday, March 18 for your chance to win one of four $25 gift cards to Indigo books. Click on the image or the link below to start the survey.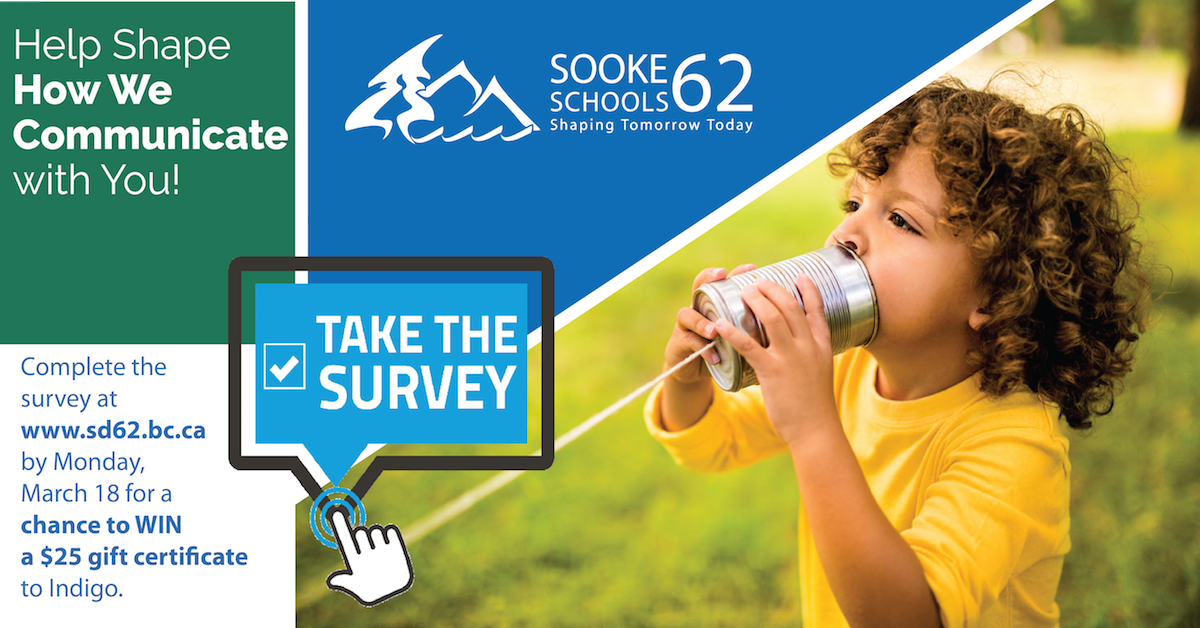 https://www.surveymonkey.com/r/SD62communications
Mon. April 1
Grade 6 Badminton at lunch
Tues. April 2
Field Hockey practice, 3:30-4:30
All boys Rugby practice, 3:30-4:30
Wed. April 3
Girls Rugby practice, 3:30-4:30
Thurs. April 4
Grade 7 and 8 badminton practice at lunch
Boys Rugby practice, 3:30-4:30
Fri. April 5
Girls Rugby practice, 2:00-3:00
*If you have any questions please e-mail your child's coach or our Athletic Directors at:
Leanne Bilous lbilous@sd62.bc.ca
Brad Lidstone blidstone@sd62.bc.ca
Hello Spencer Community,
Student- Led Conferences
On Thursday, April 11, 2019, Spencer Middle School will be holding our second
Student-Led Conference for parents and students. We will follow the same format we
organized in November. If you did not attend, a student-led conference is a conference
with parents led by the student. Students must be involved in these conferences. The
classroom teacher's role becomes that of a facilitator. In a student-led conference,
students lead parents through a discussion of their work, participate in some hands on
activities and present their portfolio or interactive notebook. Typically, several
conferences are conducted simultaneously in a classroom with family groups seated far
enough apart to allow for privacy. The teacher circulates among family groups, stopping
long enough to make pertinent comments and further guide the student to answer any
questions their parents may have. Students primarily direct the conversation, which is
focused on their work and classroom behaviour.
The main purpose of Student-Led Conferences are to celebrate a child's learning, show
growth over time, and provide parents with a better understanding of their child's
learning process. When students are well prepared over an extended period of time to tell
the story of their own success (or lack thereof), they seem to experience a fundamental
shift in their internal sense of responsibility for that success. We definitely witnessed this
during our first Student-Led Conference earlier in the year.
On Thursday, April 11, students will be released for the day at 12:11pm and the school
buses will run 3 hours early. We will begin our Student-Led Conference at 1:30pm and
continue our day with the following schedule:
Afternoon Session 1:30-4:15pm
Dinner Break for Teachers 4:15-5:30pm
Evening Session 5:30-7:00pm
We look forward to seeing you on Thursday, April 11, 2019
Vaping at School
We have had an increase in the number of students bringing vapes to school. Vapes and
vape paraphernalia are not permitted at school. Students found vaping at school or in
possession of vapes or vape paraphernalia, will be suspended and sent home
immediately. Please talk to your children about the important of this message.
Report Cards
If your child's teacher is not participating in the student reporting pilot program, they will
be bringing home their report card on Thursday, March 14, 2019. Please sign the report
card envelope and have your child return the envelope to their Advisory teacher on
Friday, March 15, 2019. Report cards will not be distributed early, so if your child will
not be at school on Thursday or leaving early, they will be able to pick up the report card
after Spring Break. If your child's teacher is participating in the reporting pilot program,
the points of progress may be sent home at another time.
Spring Break
Our District will be heading into a 2 week Spring Break next week. We hope you all
enjoy some quality time together and we encourage our students to stay active, stay
healthy and keep reading. We look forward to seeing everyone again on Monday, April
1, 2019.
Student Lost and Found
There is a MASSIVE Lost and Found display in front of the office…please do a walk
by to claim your items. The items not claimed will be delivered to the Thrift Store on
Wednesday, March 13.
Closed Campus Policy
Reminder to parents and students of our closed campus policy. We have noticed a few
students leaving campus in the morning before school, or afterschool if they take a late
bus. Once they are on school grounds for the day, they become our responsibility until
they are back on the school bus. We want to be sure we are putting safety first. Please
let your child know that going off campus once they arrive, is not an option. We would
also discourage having students leave during the lunch break to go buy food in the
community. If at any time your child forgot their lunch or didn't pack a snack, we can
provide some food at school if needed. Thank you for your support with this issue.
Spencer Yearbooks
A reminder that we are taking yearbook orders and the cost is $40. Our Spencer yearbook
is designed and created by Spencer students each year. It is a hard cover book all in
color. A wonderful keepsake of memories from your middle school years! Don't miss out on a
chance to purchase one. There will only be limited copies available
Please purchase online at https://sd62.schoolcashonline.com/
School Fundraisers
First Monday of the month – Bannock sales in the Canteen at lunch
Wednesdays – Pizza $3.00 per slice or 2 for $5.00
Fridays – Fritters $2.00 each
Upcoming Dates
March 14th – Report Card distribution
March 18-29th – Spring Break
April 11th – PAC Meeting at Spencer 6:30 pm
April 12th – Non Instructional Day
April 19th – Good Friday
April 22nd – Easter Monday
PAC Fundraisers
Spencer Co-op number is #47416
Spencer PAC has an account at Alpine Bottle Depot if you would like to donate your
recyclables to our account.
If your child is currently attending one of our feeder schools ie: David Cameron, John Stubbs(FI), Lakewood, Millstream, Ruth King, Savory or Willway you do NOT need to register for Gr 6 on-line.  Your child will automatically be transferred to Spencer unless you let us and your current school know other wise.
To Register your child for Spencer Middle please go to:  http://www.sd62.bc.ca/parents/registration/
Parents can request a school change on-line on this direct link: http://changereq.sd62.bc.ca
Registration for September 2019-2020 opens on Monday, January 28, 2019.
2019/20 Hockey Academy – Information Session
February 26th @ 6:15
Please come to Spencer School and enter by the Isabelle Reader Theatre ( follow arrows to the meeting room)
The Spencer Hockey Academy is a healthy athletic and academic environment where students can participate in a sport that they are passionate about. The primary goals of the Academy are to:
Increase student enjoyment of education / play and have fun
Develop hockey skills and knowledge
Develop health and nutritional awareness
We will Discuss the following:
Required Gear
Sample –Weekly Schedule Sept-Mid April
Gear Storage
Program Fees
Academy Bursary Program
Registration
Questions?
Please feel free to send an email or call with any questions:
Wayne Kelly at wkelly@sd62.bc.ca or at 250-480-9976
Subway Lunch Order – 6″ SUB plus Chocolate Chip Cookie for $5
Order will be delivered on April 4th, 18th, 25th and May 2nd 2019.
To make this process as simple as possible, we will only be accepting orders for all four days and you will only be able to order one type of sandwich for each of the four days.  The total owed by all who would like to "eat fresh" is $20 by cash or cheque made out to SD62.  Please see order form attached which will need to be handed in at the time of payment.
Orders can be dropped off at lunch on Tuesday February 19th or if you would like to order online you can also do this with your school cash online account at https://sd62.schoolcashonline.com/
Bottle Drive – The Bottle Drive scheduled for Saturday February 9 has been postponed.
Garage Sale and Silent Auction – We are holding another Garage Sale in March as a fundraiser!  If you have items to donate please drop them off on Sunday, Jan 19 from 1-3pm in the Band Room.
We Can Beat It – Concert has been moved from Feb 22/23 to:
Friday, March 8 @ 7pm
Saturday, March 9 @ 2pm and 7pm
**If you have any questions please e-mail the Music Director Duey Wright at duwright@sd62.bc.ca
Parents can now do school consents at the following link.
https://consent.sd62.bc.ca/apps/OnlineConsent
ONLINE CONSENT PORTAL – Phase 1 The parent page – This is where parents login to provide and/or review consents for their children.
• When using the system for the first time, parents must use the front page to request an access number (which acts as their password).
• Parents use the verification number to gain entry. From there, they can provide consent to the six activities. If your student is not listed, please make sure that the email address used is the same email address your students school has on file.
• This is meant to be a one-stop shop for parents to provide consent.
The URL for this page is https://consent.sd62.bc.ca Here are the consents that are available as this time to be collected online:
1. Freshgrade (online tool)
2. GAFE (Student Access to Google Apps for Education)
3. Media Release
4. KEV School Cash Online
5. Short (Walking) Field Trips
6. Internet Access – Available
When do the Consents expire?
• Some consents (namely GAFE, KEV, and FreshGrade) expire once a student leaves the district and/or graduates
• Some consents last one school year
• The system tracks the expiry of these consents. To renew a consent year to year (for Internet access, as an example) a parent simply reconnects to the system next school year.  The system will note that the consent has expired and will give parents an opportunity to renew their permission.
How do you sign up for these consents?
Step 1 – Add registration@sd62.bc.ca to your email contacts
Step 2 – Parents go to the link https://consent.sd62.bc.ca
Step 3 – Add your email address
Step 4 – Go to junk folder as the verification number may be sent to this folder. Make note of your SD62 email verification number
Step 5 – Add the verification number
Step 6 – Click on the Consents and choose, "I do give consent".
School Fees are now available to pay online!
We have now loaded fees into our system and you are able to manage your students accounts from the convenience of your home.
Once you have done the student consent at https://consent.sd62.bc.ca and checked off the School Cash Online Consent you will be able to then set up your account.Please allow 24 hours for the consent to be updated into our system before you proceed to setting up your account.
It is important to note that you do not have to pay your fees online, you can still pay by cash or cheque.  Doing the consent will allow us to track your students account and we can still process cash/cheque payments to their account.
Thank you for your patience as we implement this new system.  Please let us know if you are experiencing any difficulties.
Online-Payment-Instructions
School-Cash-Online-Step-1-user-guide-create-account
Online Payments can be completed by going to https://sd62.schoolcashonline.com/
School Bus Routes are now posted for the 2018/19 school year! Find your route/stop and make a note for when registration opens in late April!
How to register:
Select your route and stop – 2018/19 School Bus Routes
Register online with your route (Registration for the 2018/19 school year will open in late April)
Detailed registration instructions will be communicated by mid-April, so stay tuned!
Questions? Please email our SD62 Bussing