Track and Field Athletes: please attend at least 1 practice for each event a week that you would like to be considered to compete in.
Tuesday, May 21
Drop in Ultimate Frisbee, meet in the gym at lunch. Look for Mr. Dudzik and Mr. Spittle.
Shot put and long/triple jump practice at lunch.
Wednesday, May 22
Long and triple jump, shot put practice at lunch.
Track meet @UVIC, 4-6:30, check the athletics board for more info.
Thursday, May 23
All running events practice at lunch.
All meets take place at UVIC track, from 4-6:30. Athletes are responsible for arranging own rides.
*If you have any questions please e-mail your child's coach or our Athletic Directors at:
Leanne Bilous labilous@sd62.bc.ca
Brad Lidstone blidstone@sd62.bc.ca
Hello Spencer Community,
Social Media
There seems to be an increase in the numbers of issues our students are having through social media. The school will do our best to continue to educate our students on the proper use of technology and we are hoping parents could do the same. An issue that occurs at 10:00pm on social media is not really the school's responsibility, but we certainly deal with the fallout or after effects of those conversations at school. We are always willing to help, but if you see anything inappropriate or threatening on social media, calling the police may be a good start. Often times we will call our Police Liaison Officer to come over and help us through social media conflicts. If you ever see anything that relates to school or someone has posted something that took place at school, please let us know. Technology can be a powerful tool, so I hope we can work together to educate our students to make good choices when using this technology.
Spencer Yearbooks
A reminder that we are taking yearbook orders and the cost is $40. Our Spencer yearbook is designed and created by Spencer students each year. It is a hard cover book all in color. A wonderful keepsake of memories from your middle school years! Don't miss out on a chance to purchase one. There will only be limited copies available
Please purchase online at https://sd62.schoolcashonline.com/
If your child is currently attending one of our feeder schools ie: David Cameron, John Stubbs(FI), Lakewood, Millstream, Ruth King, Savory or Willway you do NOT need to register for Gr 6 on-line.  Your child will automatically be transferred to Spencer unless you let us and your current school know other wise.
To Register your child for Spencer Middle please go to:  http://www.sd62.bc.ca/parents/registration/
Parents can request a school change on-line on this direct link: http://changereq.sd62.bc.ca
Registration for September 2019-2020 opens on Monday, January 28, 2019.
2019/20 Hockey Academy – Information Session
February 26th @ 6:15
Please come to Spencer School and enter by the Isabelle Reader Theatre ( follow arrows to the meeting room)
The Spencer Hockey Academy is a healthy athletic and academic environment where students can participate in a sport that they are passionate about. The primary goals of the Academy are to:
Increase student enjoyment of education / play and have fun
Develop hockey skills and knowledge
Develop health and nutritional awareness
We will Discuss the following:
Required Gear
Sample –Weekly Schedule Sept-Mid April
Gear Storage
Program Fees
Academy Bursary Program
Registration
Questions?
Please feel free to send an email or call with any questions:
Wayne Kelly at wkelly@sd62.bc.ca or at 250-480-9976
School bus registration for the 2019/20 school year opens at 9 a.m. on Friday, April 12!
(This is for school bussing starting in September)
Many of our buses and routes fill quickly. Please register close to opening so that you get a spot!
As in previous years, we will be using the School Cash Online system for school bus registration. Registration is of course, free for families.
Please note:
Registration will open on time
Parents will not be able to select bus routes.
Experienced Transportation staff will place your child(ren) on the best routes as per your home address and school.
If you register by June 1, you will be notified as to which bus routes your child(ren) will be on before the end of the school year.
Bus passes will be handed out to middle and secondary students prior to or during the first week of school in September
Bus passes only apply to middle and secondary school students. Attendance will be taken in the elementary grades.
Drivers will begin enforcing passes during the first week of school in September.
Questions? Please check out some of the Frequently Asked Questions near the bottom of the Transportation page or contact the Transportation Department via email or call (250) 474-9845. Due to volume of inquiries, please allow 3-4 business days to receive a response.
Parents can now do school consents at the following link.
https://consent.sd62.bc.ca/apps/OnlineConsent
ONLINE CONSENT PORTAL – Phase 1 The parent page – This is where parents login to provide and/or review consents for their children.
• When using the system for the first time, parents must use the front page to request an access number (which acts as their password).
• Parents use the verification number to gain entry. From there, they can provide consent to the six activities. If your student is not listed, please make sure that the email address used is the same email address your students school has on file.
• This is meant to be a one-stop shop for parents to provide consent.
The URL for this page is https://consent.sd62.bc.ca Here are the consents that are available as this time to be collected online:
1. Freshgrade (online tool)
2. GAFE (Student Access to Google Apps for Education)
3. Media Release
4. KEV School Cash Online
5. Short (Walking) Field Trips
6. Internet Access – Available
When do the Consents expire?
• Some consents (namely GAFE, KEV, and FreshGrade) expire once a student leaves the district and/or graduates
• Some consents last one school year
• The system tracks the expiry of these consents. To renew a consent year to year (for Internet access, as an example) a parent simply reconnects to the system next school year.  The system will note that the consent has expired and will give parents an opportunity to renew their permission.
How do you sign up for these consents?
Step 1 – Add registration@sd62.bc.ca to your email contacts
Step 2 – Parents go to the link https://consent.sd62.bc.ca
Step 3 – Add your email address
Step 4 – Go to junk folder as the verification number may be sent to this folder. Make note of your SD62 email verification number
Step 5 – Add the verification number
Step 6 – Click on the Consents and choose, "I do give consent".
School Fees are now available to pay online!
We have now loaded fees into our system and you are able to manage your students accounts from the convenience of your home.
Once you have done the student consent at https://consent.sd62.bc.ca and checked off the School Cash Online Consent you will be able to then set up your account.Please allow 24 hours for the consent to be updated into our system before you proceed to setting up your account.
It is important to note that you do not have to pay your fees online, you can still pay by cash or cheque.  Doing the consent will allow us to track your students account and we can still process cash/cheque payments to their account.
Thank you for your patience as we implement this new system.  Please let us know if you are experiencing any difficulties.
Online-Payment-Instructions
School-Cash-Online-Step-1-user-guide-create-account
Online Payments can be completed by going to https://sd62.schoolcashonline.com/
Community involvement in the education system is key to our success as a progressive and collaborative learning community. We want to be sure we are communicating with our parents and community in the best way possible.
Complete this survey by Monday, March 18 for your chance to win one of four $25 gift cards to Indigo books. Click on the image or the link below to start the survey.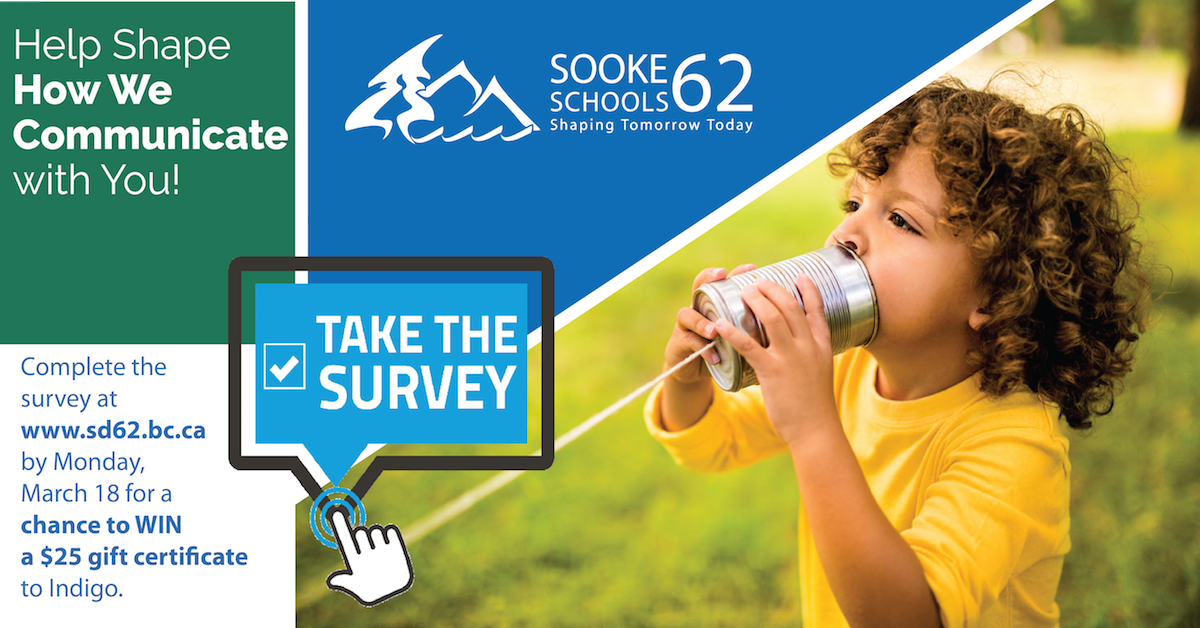 https://www.surveymonkey.com/r/SD62communications
Bottle Drive – The Bottle Drive scheduled for Saturday February 9 has been postponed.
Garage Sale and Silent Auction – We are holding another Garage Sale in March as a fundraiser!  If you have items to donate please drop them off on Sunday, Jan 19 from 1-3pm in the Band Room.
We Can Beat It – Concert has been moved from Feb 22/23 to:
Friday, March 8 @ 7pm
Saturday, March 9 @ 2pm and 7pm
**If you have any questions please e-mail the Music Director Duey Wright at duwright@sd62.bc.ca